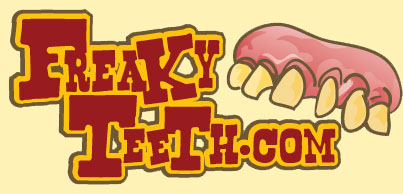 Often Imitated, But Never Duplicated

You've probably seen them on national TV: The former dental student, Dr Richard Bailey (now a real dentist) and his college roommate Jonah White. They've made a livin' givin' over 5 million Americans (and their children) that beautiful Billy-Bob smile. Now, it's time to hook yerself up. Make everybody jealous at your trailer court by bringin' home dem Billy-Bob Teeth and Billy-Bob Pacifiers!
Our Mission
Since 1999 we have strived to bring Billy Bob Teeth and accessories to people around the world. We carry a full line of Billy Bob products, from teeth and pacifiers to glasses and hats. We take pride in our fast, friendly service. If you have any questions or comments please don't hesitate to contact us: sales @ xstechatlanta.com
So, What are Billy Bob Teeth?
Billy-Bob Teeth are false teeth designed to look either horrible or hilarious! The fake teeth are created by actual dentists who use denture materials to construct them. Once you have the teeth, you custom fit them to your mouth by using included dental putty; the process takes 5 minutes and insures a perfect fit! All teeth fit perfectly over your real teeth and look authentic. Billy Bob Teeth are constantly used in Movies and on Television, even by celebrities like Stone Cold, Britney Spears, and Austin Powers!
Ordering & Shipping Information
We accept all major credit cards through our payment processor. Shipping & Handling will be automatically calculated into your total. We try to ship out orders as soon as we receive them, but there may occasionally be a delay. In the event that it will take more than 72 hours to get your order out, we attempt to let you know as soon as possible in case you need to cancel. For sanitary reasons, we can not accept returns.
More Information
FreakyTeeth.com is a subsidiary of XS Tech Atlanta, based in Atlanta, Georgia. All order processing and support functions are handled by our parent company.